Aleaciones Estampadas S.A. – AESA has been renewed recently with 'Preferred Supplier' Certificate from Knorr-Bremse, leader in manufacturing of braking systems for rail and comercial vehicles.
The award ceremony took place at the Knorr-Bremse Group headquarters in Berlin. In the photograph, the Knorr-Bremse team deliver the certificate to the technical and commercial team of AESA: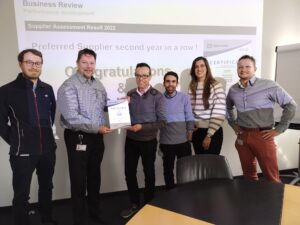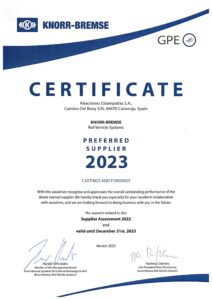 AESA has been working for Knorr-Bremse for several years, manufacturing parts for its brake systems, both in brass and aluminium forging. There are some parts that we manufacture: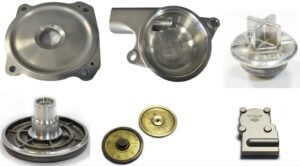 For the qualification of "Preferred Supplier" the client has carried out an AESA audit, and we have satisfactorily passed all the requirements for the renewal of the certificate.
In addition, we also manufacture parts for other companies in the railway sector, by aluminium forging and other non-ferrous metal alloys, from components for transport vehicles (brakes, bogies, nameplates, etc.) to parts for catenaries.
In the following link you can find some examples of them:
We also have a specific presentation for customers in the railway sector:
Aleaciones Estampadas S.A. – AESA, is at your disposal to manufacture your products, through the forging and machining in lightweight alloys (aluminium, magnesium, titanium, etc) and brass, for several sectors: Automotive, Railway, Naval, Urban Mobility Vehicles, Gas and liquid valves, Electrical material, Coffee machines, etc.