Aleaciones Estampadas (AESA) started its way more tan 45 years ago, as brass component supplier for ironworks and fittings. Thank to acquired experience in manufacturing this kind of components, AESA overcomes its competence providing quality and satisfaction to their customers.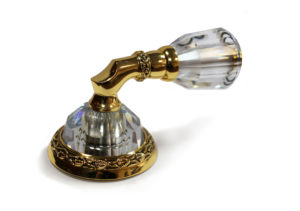 Among our competences, we offer a wide range of services, such design and adaptation to our manufacturing process, by our Technical Department, machining and finish according to our customer requirements.
Please, find below our surface finishings that we offer in AESA:
-Polishing
-Chrome plating
-Nickel plating
-Silver plating
-Lac-based coating
-Gloss and nickel gloss finishings
-Gold plating
Some of the components produced at our facilities: Ironworks, Fittings, Lightning an others.