Within the digital strategy of Aleaciones Estampadas S.A. – AESA for the Mexican market, we are designing a new website.
This project is funded by Xpande Digital Program of the Valencia Chamber of Commerce and the European ERDF Funds. In addition, we also have technical support in the web development of AIDIMME.
On the web, which we will present shortly, we will detail the projects developed for Forging of brass and aluminum alloys parts for Mexican companies and international companies located in the country, from 1988 to the present.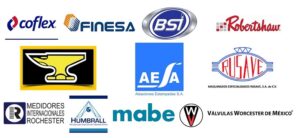 From the first project, developed in 1988 for the company IMAR – COFLEX of Monterrey, to the current projects for companies such as MABE or RobertShaw, Aleaciones Estampadas S.A. – AESA has had the opportunity to introduce its technology for Forging and machining of brass and aluminum parts in Mexico.
In addition, we are currently developing a Joint-venture strategy with a Mexican company, to have facilities located in the country and to be able to manufacture the parts in México.
Meanwhile, we are at the disposal of Mexican companies to continue developing new Projects of Forged aluminum parts and other non-ferrous alloys, from our facilities in Catarroja (Valencia – Spain).